7.24.12
A couple weeks back, we got an invite to Shut Up and watch a film. By now you've probably heard there once was a band that went by the name of LCD Soundsystem. And on April 2nd, 2011, said band played their final show at the historic Madison Square Garden. It's a night that will live forever in EPICNESS.
The film Shut Up and Play the Hits chronicles the final days of the band, documenting, filming and interviewing those who were closest to their last go around. I was there that night, and to even begin to attempt to describe that wonderful evening in words, that fantastic experience, is a disservice to that show. Cinema is an entirely different beast though. What this documentary does well, is take you as close as you'll ever get to reliving those moments. It's as close as you'll ever get to going,"Home" again…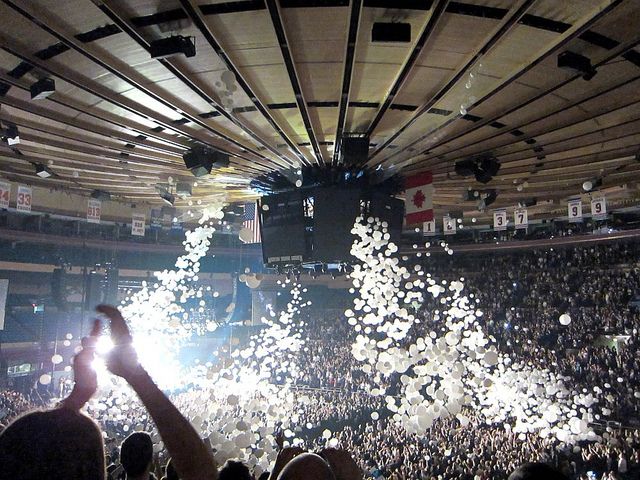 Photo By Allison C. Meier
Shut Up and Play the Hits starts off with a dazed James Murphy, literally waking up from the dream that is his life. James, along with his French Bulldog "Petunia" get the film going the same way it ends — in a state of deep thought, wonderment and euphoria. Shortly after you get into this piece, you're quickly brought into Murphy's world, as much of the movie is a shimmering back and forth between Jame's interview with Chuck Klosterman before the show, and the actual live performance.
What happens in between is the essence of what those last few days were about, what they meant…and what now should be seen as an unfinished definition, of who exactly was LCD Soundsystem? Klosterman's questions provoke, Arcade Fire's appearance sparks tremendous feeling, slash a quasi glimpse into the unspoken changing of the guard, and the scenes with the band's friends like Reggie Watts and family members will provide a genuine feel. All culminating with the only track appropriate to send themselves out on, "New York I Love you, But you're Bringing Me Down" — you truly get a sense of what this band means to our culture. In watching this, you will feel like you were there. You will smile the entire time. And if you were lucky enough to be at the show, those eyes will water.
Writer | Rene Ramirez